Oleiros, A Coruña, España
The Noa Boutique Hotel, located in Santa Cruz, A Coruña, has 4 stars and a privileged location with views of the Castle of Santa Cruz from all its rooms.
A paradisiacal hotel in Galicia, awarded with multiple prizes such as Best Luxury Hotel Restaurant 2021 by the World Luxury Restaurant Awards, Luxury Small Hotel 2022 by the World Luxury Hotel Awards and Best Urban Hotel in Spain 2023 by National Geographic Travels.
Built in 2019 by the hand of the architectural firm Sinaldaba, from Grupo Malasa we manufacture custom structural elements and furniture for its incredible facilities.
Photography: Luis Díaz Díaz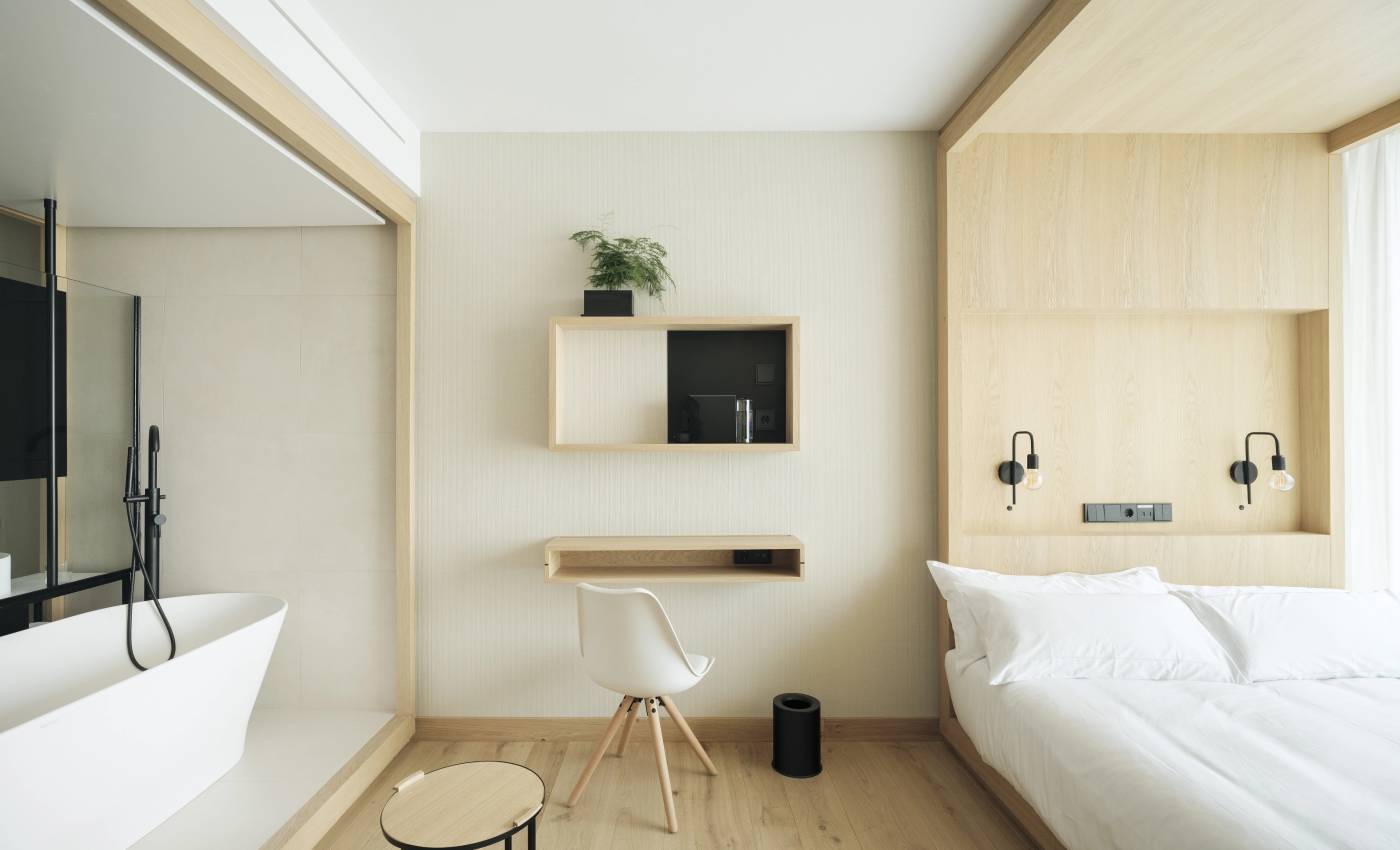 The concept of comfort of Hotel Noa Boutique focuses on the "Bed-Bath-Breakfast" experience, so they included in all rooms, spectacular bathtubs overlooking the estuary and a comfortable bed as undisputed protagonists. All this is framed in oak veneer on walls, headboards, bed frames, doors, desks, tables and bathtub structures.
In high traffic areas, we mainly use Krion ®, hygienic, antibacterial and ecological as it can be 100% recycled. We combine this with oak wood and metal for details in brass and lacquered steel.
On its rooftop terrace, they offer all their guests a luxurious swimming pool from which to enjoy the spectacular views of the bay of A Coruña.
In common areas, we made to measure and exclusively for the property, all the chairs, armchairs and sofas, as well as the perforated metal lattices in the bathrooms for privacy. But we cannot forget the bar counter with Krion ® die-cut and backlit front and brass top.
This hotel focuses on a concept of "sustainable luxury". The architecture of the building was conceived in a glazed design that facilitates the self-regulation of the temperature in the rooms and improves the energy efficiency of the hotel
The glazing accentuates the harmony between the interior and exterior, creating a pleasant atmosphere and light throughout the day. All the glass was supplied by Grupo Malasa, through our subsidiary Fresno Cristal.